Titebond Advanced Polymer Panel Adhesive
Select Adhesive Product
Ideal for Vertical Panel Installation
Service Temp Range of -40F to 220F
No Flammable Gases When Curing
Safe for Food Storage Areas
The Titebond 4319 and Titebond 4315 are the SAME product: Titebond Advanced Polymer Panel Adhesive.
The 4319 is packaged in a 3.5 gal bucket, and the 4315 is packaged in 1/2 gal pouches (6 pouches per bucket) for easy application.
The 1/2in gallon pouches are easy to use. You will reduce waste, save some money, and help minimize cleanup. They are actually faster and less messy than the 3.5 gallon bucket as you simply cut open the pouch and squeeze the adhesive on to your sheets. Your installer will thank you.
Titebond 4319
3.5 Gallon Pail

Titebond Advanced Polymer Panel Adhesive

Approx 60 sq. ft. / Gallon

7 - 4' x 8' Sheets or 5 - 4' x 10' Sheets

Next Day Shipping on All Orders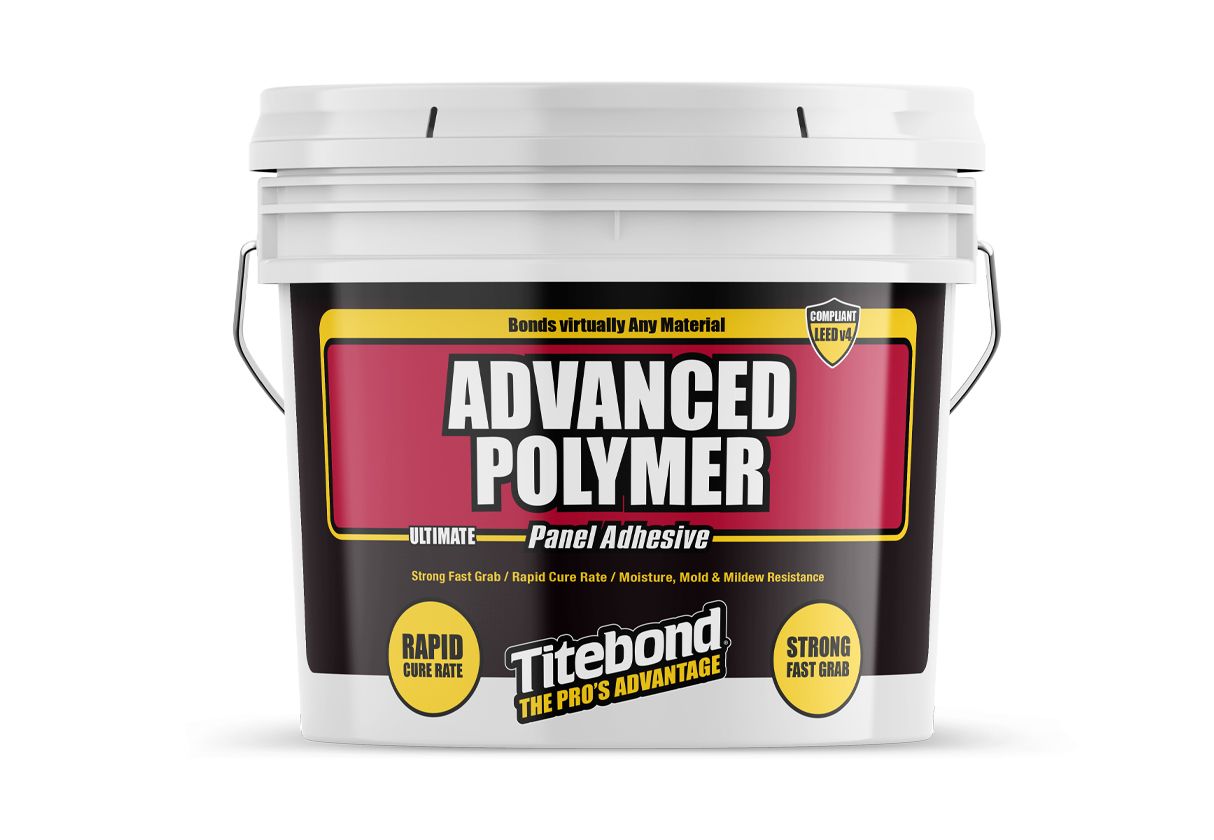 Titebond AP, as it's known, is the ideal solution for attaching stainless steel and other non-porous materials to almost any surface. The proprietary adhesive works well on drywall, MDF, cement board, plaster, bricks, block walls, concrete, wood paneling, FRP, and most any other surface you may be working with. We do not recommend using any other glue for installing panels on walls and/or ceilings.
Long Term Safety: Titebond AP is environmentally safe with low VOC's during installation and ZERO VOC's after curing. You can use it to install panels in mission critical areas within restaurants, cafeterias, food storage/curing environments, hospitals, labs, clean rooms, etc. In the downloads section we have provided a letter of guarantee from the manufacturer to help provide additional peace of mind.
Fast Grab: Titebond AP is an excellent solution for installing panels on a vertical surface where bracing and/or fastening is difficult. If installed correctly rippling is practically non-existent, whereas with most other adhesives rippling and wavy sheets are guaranteed. Your crew will actually save time, and you can provide a lifetime installation with no callbacks for rework.
Safe Installation: If you have installed panel products for any length of time, you may have experienced an explosion due to auto-ignition of explosive gases from adhesive. With stainless steel this is even more important as an electric spark or flame can lead to expensive repair work and/or lawsuits. With Titebond AP you can rest easy knowing the installation will be drama free. This VOC-compliant, nonflammable formula is environmentally safe, and emits no harmful fumes.
Service Temperature: With a service temperature range of -40°F to 220°F and a NFPA class A fire rating Titebond AP is excellent for heat sensitive installations in restaurants, wash-down areas, in-plant operations, and anywhere high temperature and/or wide temperature fluctuations are a concern.
Exceeds the performance requirements of ASTM C557, Meets GreenSeal GS-36 specification, Meets LEED, SCAQMD, CARB specifications, Meets NAHB Green Building specifications