Configure Your Kitchen Backsplash
Personalize your kitchen.
The backsplash samples are quite large at 8" × 8" and each one is separately packaged in a sturdy envelope. If you order 4 or more they are shipped in a heavy duty binder that keeps them organized, ensuring you'll never be without. Because who doesn't want stainless steel.
Base price is $17.99 and each additional sample is $8.99. All samples are shipped via FedEx Express 2 Day which is the least expensive option available due to a special program by FedEx. Order by 12pm CST for same day shipping. We know you want them fast, but if you want them faster, overnight is also available at an additional cost.
The different textures can be viewed in detail at the kitchen visualizer. The images are gigantic so you can see what you're getting, and they are even placed in kitchens to give you a better idea of the final outcome.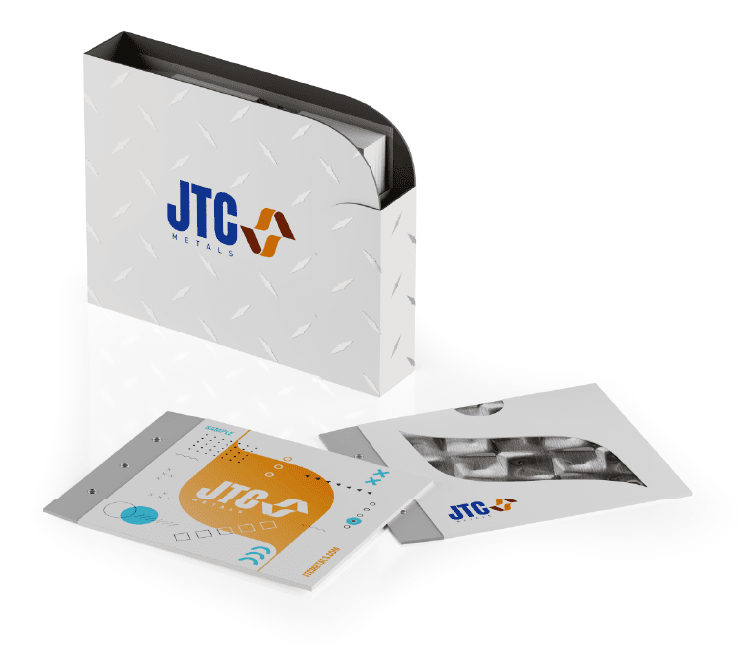 Stainless Steel Surface Finishes Explained Clearly!
| | |
| --- | --- |
| Q: | What is the #4 Brushed Finish? |
| A: | The #4 brushed finish is the most popular available today, and typically utilizes . There are various names for it including brushed, polished, satin, and sometimes even nickel finish. It's the de facto industry standard in commercial, industrial and residential applications where aesthetics and longevity are important. It's also the most consistent across batches and is easier to match when upgrading or adding to previous installations. The #4 brushed finish will never fade and is basically ageless, providing you keep it maintained. |
| Q: | What is the 2B Finish? |
| A: | The 2B Finish is gray in color and somewhat reflective. It looks good initially, but is extremely difficult to keep pristine in applications where it will be handled and/or cleaned frequently. This has no effect on the performance or longevity of the product, but rather the aesthetics. Fingerprints, oils, and various liquids tend to stain the surface of the metal, resulting in uneven coloring and patches with different shades of gray. In addition, the 2B finish is done at the steel mill and may vary in color from batch to batch. |
| Q: | What is the BA Finish? |
| A: | BA finish, or Bright Annealed finish is similar to a #8 mirror finish or a chrome finish. While quite uniform, the finish is done at the steel mill and may vary slightly from batch to batch of material. You'll find the BA finish on the inside of dishwashers, laundry machines, refrigerators, etc. The bright annealed finish is achieved by heating up and cooling (annealing) in a controlled environment. |
| Q: | Are Stainless Steel Surfaces Anti-Bacterial? |
| A: | There is a comment misconception that stainless steel is anti-bacterial, but that is not the case. However, stainless steel is durable enough to be cleaned and/or sterilized frequently without breaking down the surface or material. This is the reason is has become so popular in everything from surgical instruments to restaurants. If it isn't destroyed by carelessness, including denting, abrading, drilling holes, etc, stainless steel will provide one of the longest-lasting and best looking wall finish options available. |